October 17, 2016

I have been busy working on a huge oak farm table.  I thought I would explain the process of ordering and then building the farm table.

The client contacted me inquiring about having me make a custom farm table for their house.   Not sure exactly what they wanted,  we discussed style options while exchanging images through email.  Also, we discussed leg styles, as well as the benefits of each wood option.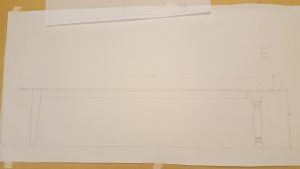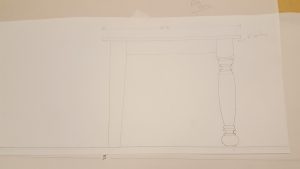 I draw every project either full scale or 3:1 scale for the clients approval before any construction starts.  With this table I drew a tapered leg and a turned leg for comparison.  I still draw by hand.  The learning curve to start drafting on the computer is just to great and I like to have the option to see everything full scale.  The client wanted the overall length of the table to be about 11 feet.  Sourcing material for that final length was difficult.  Cherry in wide widths and lengths is available but I was able to find white oak thick enough and long enough so we settled on white oak.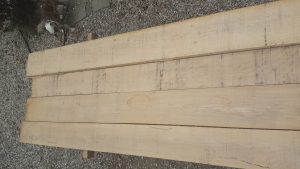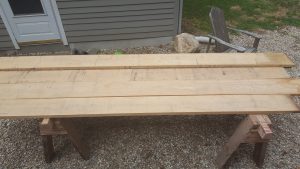 The white oak is 12-13 feet long in widths of 10 to 12 inches.
With each table, I make the top first.  I start with lumber "in the rough" which means it is not flat, square, etc.   The boards are warped, cupped, usually dirty and its surface is directly off the saw from the mill which is basically pretty ugly.  I joint each board on a machine called a jointer.  What's a jointer?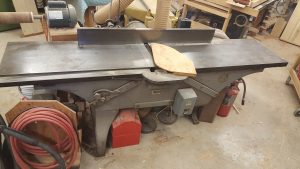 This is my 16″ Northfield Jointer.  It creates a flat face, removing any cup or warp in the wood.  It also creates a 90 degree edge to my flat face.  The board is then fed through my planer which creates parallel to my initial flat face from my jointer.  The jointer takes the place of a hand plane.  This Northfield jointer was built in 1942 and still runs beautifully.  It weighs about 2000 lbs. and getting it into my shop, up the four steps, and through the doors is for another blog post.
The top of the farm table is then assembled as well as the base and the bread board ends are cut.  Sorry, didn't take any photos of that process on this table.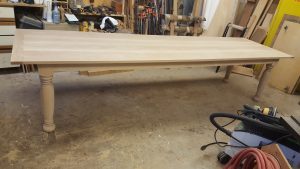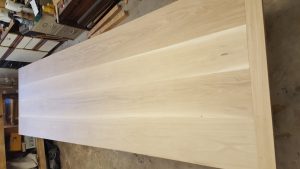 More pics of the table with color/finish on it to follow……